About Me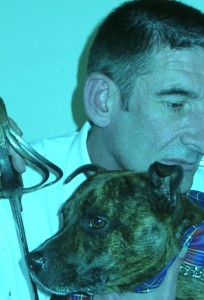 Although Tom Neil has virtually no art training, he has painted and drawn for as long as he can remember.  At the age of eight he discovered reproductions of Dali's "The Persistence of Memory" and Picasso's "Guernica" and some of that inspiration still shows in his current work.  By the age of seventeen, Neil had become a rebellious teenager for whom school had nothing to offer.  Further education would have to wait until later.  Meanwhile, he was off round the world and spent six years abroad visiting France, Italy,  Spain, and Portugal, Norway, Sweden and the USA.
By the age of twenty four, Neil was back in Scotland and began to try to realise his intention to take up some sort of career in the arts.  Since then, he has studied in various Colleges catching up on his highers, learning graphic design, beginning social science and switching to multi-media computing.  This alternated with further travel and research trips to the Middle East, Europe and Canada, and currently spends a lot of time in Southern Spain.
NEXT TRIP SOUTHERN SPAIN WINTER 2015
However, he has gradually identified painting as his true vocation and is now concentrating his efforts in that direction.  He has homed in on a visual format that allows him the scope to explore and develop key ideas.  His work has a bold freedom of expression, which demands an ever-expanding technique.  His paintings contain central narrative themes plus added symbolic references, all painted with arresting directness and imagination.  He often manages to create a dream-like theatrical effect, with a central image such as a vivid portrait floating in front of a highly worked textural backdrop.  These paintings do not immediately reveal their meaning but invite contemplation.
Like other contemporary Glasgow artists (Campbell and Wiszneiwski in particular), Neil uses a child-like language in a sophisticated way.  Dynamic gestural brushwork is found alongside neatly drawn figurative sections.  Colour can be natural or totally abstract.  Symbols recur such as crucifixes but these are more political than historical references suggesting the universal theme of persecution.